Worlds Most Expensive Drugs (Posted: 03-15-2019, 08:30 AM)
When people talk about expensive drugs, they usually are referring to drugs like Lipitor for high cholesterol ($1,500 a year), Zyprexa for schizophrenia ($7,000 a year) or Avastin for cancer ($50,000 a year). But none of these medicines come close to making Forbes' exclusive survey of the most expensive medicines on the planet.
The nine drugs on our list all cost more than $200,000 a year for the average patient who takes them. Most of them treat rare genetic diseases that afflict fewer than 10,000 patients. For these diseases, there are few if any other treatments. So biotech companies can charge pretty much whatever they want.
Alexion Pharmaceutical's Soliris, at $409,500 a year, is the world's single most expensive drug. This monoclonal antibody drug treats a rare disorder in which the immune system destroys red blood cells at night. The disorder, paroxysymal nocturnal hemoglobinuria (PNH), hits 8,000 Americans. Last year Soliris sales were $295 million. Since Alexion started selling Soliris two years ago, its stock price is up 130%.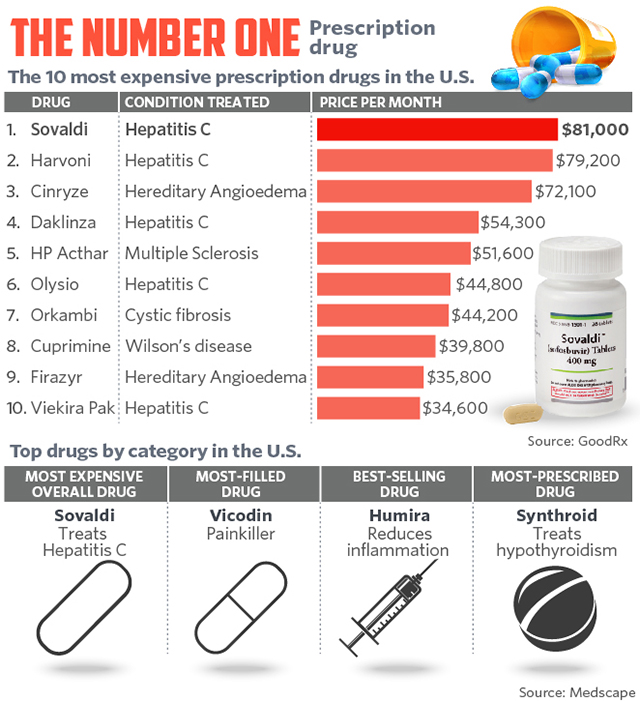 In the inverted world of drug pricing, the fewer patients a drug helps, the more it costs. Before testing Soliris for PNH, Alexion tested the drug for rheumatoid arthritis, which afflicts 1 million Americans. The trials failed. But if it had worked for arthritis, Alexion would likely have had to charge a much a lower price for this use, as would have to compete against drugs that cost a mere $20,000.
Three other drugs cost more than $350,000 per year. Shire Pharmaceuticals' Elaprase ($375,000 per year) treats an ultra-rare metabolic disorder called Hunter's syndrome. Just 500 Americans suffer from the disease, which causes infections, breathing problems and brain damage. Last year domestic sales of Elaprase were $353 million.
Naglazyme from BioMarin Pharmaceuticals treats another rare metabolic disorder and costs $365,000 a year, according to investment bank Robert W. Baird. Viropharma predicts that sales of its Cinryze, a treatment to prevent a dangerous swelling of the face, will increase from $95 million last year to $350 million several years from now. The drug costs an estimated $350,000 a year.
Cite:
https://www.forbes.com/2010/02/19/expens...5e9c375e10
As outrageous as the cost of health care can be in the United States, it's nothing compared to the markup on some prescription medicines.
While companies certainly have to recoup their research and development costs and earn a profit for investors — and the exclusive window before a generic version of a drug goes on sale is the optimal time to do so — those prices can sometimes get out of hand.
In 2015, you might recall, the price of Daraprim, which is used by AIDS and transplant patients, famously soared from $13.50 per pill to $750, which sparked an outrage. (As of last August, the price was down to $375 per pill, which hasn't done much to dissuade critics.) Last August the cost of a two-pack of EpiPens jumped to $600 (versus $90 a decade prior). That hike has resulted in a class-action lawsuit.
[img]3.bp.blogspot.com/-vzLTd-9kvIo/UlRotu-Qo6I/AAAAAAAA7mo/YCsjaiIRp3Y/s1600/Most+Expensive+Drugs+in+the+World+–+Infographic+-+Graphs.net.png[/img]
Should some method to combat high drug prices materialize, regardless of origin, it would still likely not go into effect for some time, given expected resistance from pharmaceutical companies and the general slow pace of government.
For now, patients are stuck fighting their insurance companies to cover bills that can be jaw-droppingly expensive. GoodRx, which monitors the price of prescription drugs, has compiled a list of the most expensive ones on the market.
Cite:
https://www.cnbc.com/2017/05/10/americas...drugs.html