RE: 'US Wants Terrorists to Stay in Idlib; Just Imagine What Pompeo Would Say If They ... (Posted: 09-04-2018, 04:02 AM)
'Aid-delivering' Syrian rebels: NYT shows warm, fuzzy side of Al-Qaeda in Idlib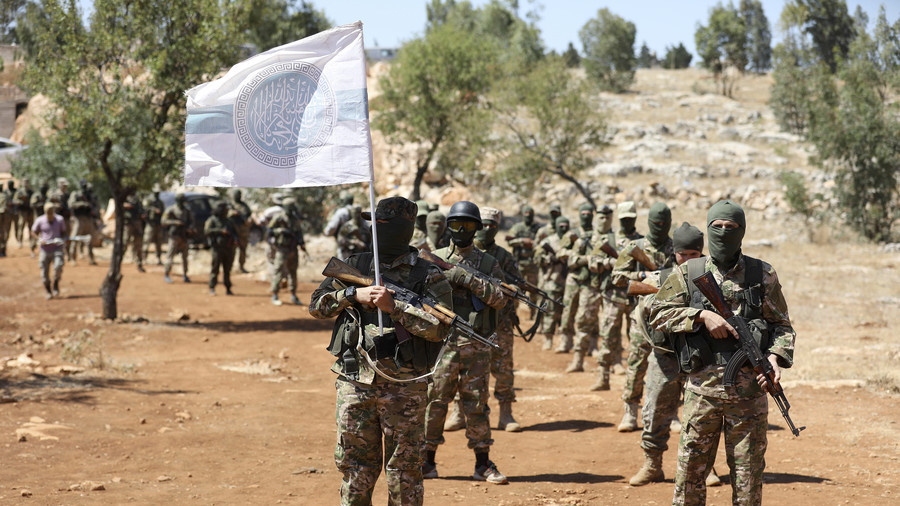 Hayat Tahrir al-Sham (HTS) members at a camp in the countryside of the northern Idlib province on August 14, 2018. © Omar Haj Kadour / AFP
A New York Times report warning of an impending bloodbath in Idlib downplays the fact that the Syrian province is controlled by Al-Qaeda affiliated terrorists, portraying the "rebels" as humanitarian-minded administrators.
"Millions of civilians are dreading what comes next" in Idlib, the New York Times reports, after presumably consulting with most of the province's estimated three million inhabitants. In a true masterpiece of euphemism-infested journalism, the Times has turned the operation to liberate Idlib from a US-designated terrorist group on its head, bemoaning the uncertain fate of the "rebel fighters and their civilian supporters who rose up more than seven years ago demanding regime change."
Scroll about 20 paragraphs down and the Gray Lady notes with a dismissive air that Syria's deputy prime minister called these brave fighters "terrorists" (scare-quote credit: NYT) during an interview with Russian (yes, Russian!) television on Saturday. The paper then provides crucial context to help counter this cynical Kremlin soundbite, pointing out that while it's true that Hayat Tahrir al-Sham (HTS), "which is affiliated with Al-Qaeda," has controlled much of Idlib since 2015, there's more to Al-Qaeda affiliation than meets the eye. After all, the State Department-designated terrorist group has dutifully acted as "a de facto governmental authority, facilitating trade across the long border with Turkey and organizing aid deliveries."
Seventeen years after the September 11 terrorist attacks, the New York Times is now writing articles commending Al-Qaeda affiliates for their aid-delivering abilities. No mention of reports of their chemical weapon stockpiles, however.
Five paragraphs later, the New York Times nonchalantly discloses that HTS – characterized as "rebels", "fighters", "rebel fighters", "rebel forces", and "Syria's strongest rebel faction" throughout its mind-melting article – has been "officially declared" a terrorist organization by the United States, European Union and even Turkey.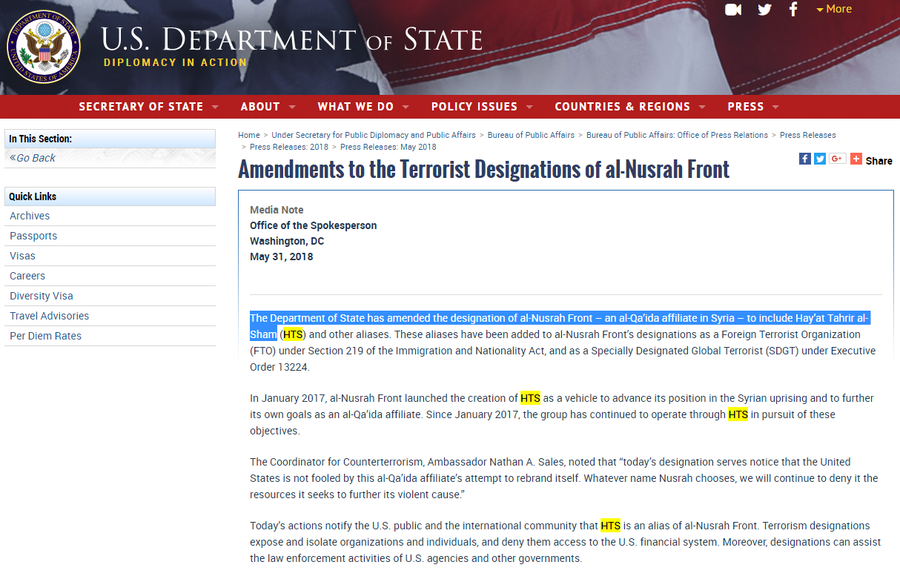 [..]
Continued...
https://www.rt.com/usa/437543-nyt-idlib-...ge-rebels/
Where there is imbalance I am the counterweight. Beware, for if you are a cause of imbalance you may not enjoy my presence.