Nationwide 'Impeach Donald Trump' Rallies Saturday (Posted: 06-15-2019, 09:35 AM) (This post was last modified: 06-15-2019, 09:39 AM by MaximalGravity.)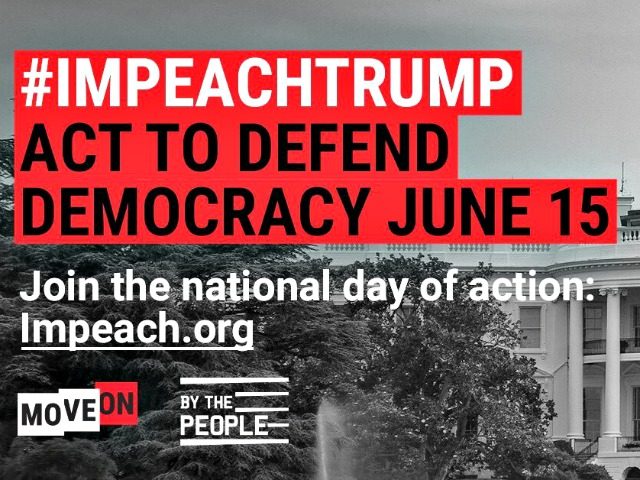 MoveOn Launches Nationwide 'Impeach Donald Trump' Rallies Saturday
Leftist activist organization MoveOn will hold nationwide "Impeach Trump" protests Saturday in partnership with many organizations including the Women's March.
Congress Members Rashida Tlaib and Al Green joined in a June 18 planning call ahead of the events that are co-sponsored by We the People. The website aimed at impeaching President Donald Trump provides information on the call in a link titled, "People's Impeachment Guide."
Celebrity Chelsea Handler promoted the events in a Thursday tweet:
Actress Kristen Johnson also promoted the event:
A map of events on the event webpage shows some clusters of events concentrated in and around Los Angeles, San Francisco, New York, Boston, Seattle, Portland, and Chicago. Others were scattered around the country, more along the two coasts than middle America.
Snip
MoveOn lists the following organizations on the event website as partners: Need to Impeach, CREDO, FreeSpeachforPeople.org, Indivisible, By the People, Liberty Tree, Women's March, March for Truth, AGN, Mainers for Accountable Leadership, Saratoga Progressive Action, Stand Up America, blue future, Daily Kos, Alameda4Impeachment, Indivisible East Bay, Courage Campaign, Progressive Democrats of America, Democracy for America, Move to Amend, resistbot, act.tv, and United Native America.
More
https://www.breitbart.com/politics/2019/...-saturday/
https://twitter.com/wkamaubell/status/11...8587876352