DARPA Deployment Of Hydrogel Mark Of The Beast (Posted: 03-25-2020, 03:26 AM)
DARPA Deployment Of Hydrogel Mark Of The Beast
Just watch the dam video / the collapse of our money system . As I see it; this coronavirus could be the beginning of the cashless society .
I keep asking myself do I make a bank run and stash money around home or do I keep it in the bank
CSB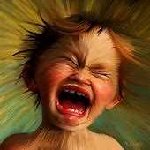 Dear Diary, I'm Observing That The Real Virus Is Fear... & It's Contagious: Therefore, "Guard Your Hearts & Minds"
 CSB