CNN IS REALLY, REALLY, PISSED (Posted: 03-02-2019, 03:58 AM)
Art is a wonderful thing.. The Billboard is right next to their LA office
The Communist News Network.
Anti-CNN Billboard Appears Next to CNN's Hollywood Headquarters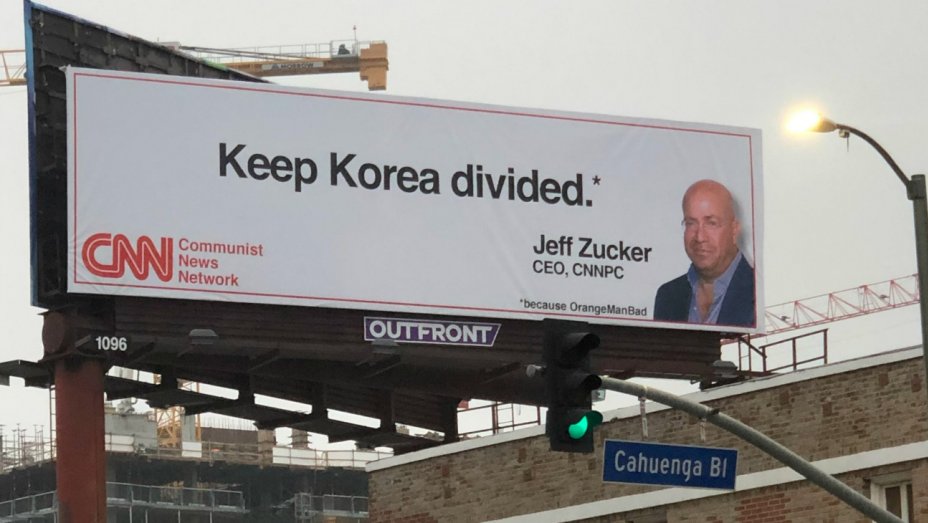 A conservative group of street artists has labeled the cable channel run by Jeff Zucker the "Communist News Network."
A billboard that criticized CNN and its president, Jeff Zucker, over a perceived liberal bias sprang up Friday directly across the street from the news network's headquarters in Hollywood.
The billboard at the corner of Sunset and Cahuenga features Zucker's face and faux title, "CEO, CNNPC" and it refers to CNN as the "Communist News Network." The main message reads: "Keep Korea Divided."
Before Friday morning, the giant billboard was being used to advertise a marijuana dispensary, but it has been altered by a small band of conservative street artists who go by the name The Faction, and it is the third time in six weeks the group has attacked a TV channel owned by AT&T's WarnerMedia.
More
https://www.hollywoodreporter.com/news/a...rs-1191686
Capnron
,
ChancyClancy
,
Deplorably Nameless
,
Dr Evil
,
ElixerPi
,
Elric
,
FallingDown
,
Frigg
,
John
,
Shore Skeptic
,
sloonie
,
WhiteAngel
,
Wingsprint
likes this!