Anyone remember the Chopper crash on the Rothschild's estate in 2017? (Posted: 10-11-2018, 01:17 AM) (This post was last modified: 10-11-2018, 01:56 AM by Shamrock007.)
Anyone remember the helicopter crash on/near the Rothschild estate in Nov 2017? I wanted to take a look back on that.  Tried to dig up some old articles and noticed many were scrubbed.  
One in particular that I remember was a BBC news live update type blog.  It was pretty massive.  Had live post after post updating to the minute as this was all happening.  Today that same link.  Almost completely scrubbed.
The reason I was searching high and low for this article I remembered reading that there was a quote in it from Buckingham MP and Speaker of the house of commons John Bercow.  
I remember thinking.  What a really odd thing for him to say.  It just doesn't make sense.  This was reported as an accident where a small plane crashed with a helicopter.  That it was complete coincidence that it happened near the Rothschild Estate.  
Here is what he said.
Buckingham MP and Speaker of the House of Commons, John Bercow, has spoken about today's air crash, telling the BBC: "I'm shocked by the news. It's a very sad day for Waddesdon and for Buckinghamshire, and, of course, it's a very sad day for the casualties of this awful crash and all of their family and loved ones.
The sense of shock and outrage at what has happened will be very real
and we applaud and appreciate the enormous efforts of the emergency services at a time like this."
How that same URL looks today... Almost the whole thing got scrubbed.  
https://www.bbc.com/news/live/uk-england...s-42030439
Here is the only remaining evidence I could find of his quote which a snapshot of the page that was archived on way back machine before they scrubbed it.  (press cntrl F and type outrage it should come right up).
https://web.archive.org/web/201711172314...s-42030439

Let that sink in for a moment.  Speaker of the House of Commons John Bercow said the sense of shock and outrage at what happened here will be very real.  Shock and outrage over an accidental mid air collision from a "student pilot?"  Then the quote was completely scrubbed from everywhere except a site that archives webpages before they are edited.
Now shortly before that happened. That Argentinian sub went missing.  It was all over the news.
https://www.cnn.com/2017/11/28/americas/...index.html
What is kind of interesting is where that subs last known position was before it sunk. It was right between A Rothschild Estate in Argentina and another estate/underground complex they own in Antarctica.  
Q had a post about the castle runs red.  Quoted in the below image.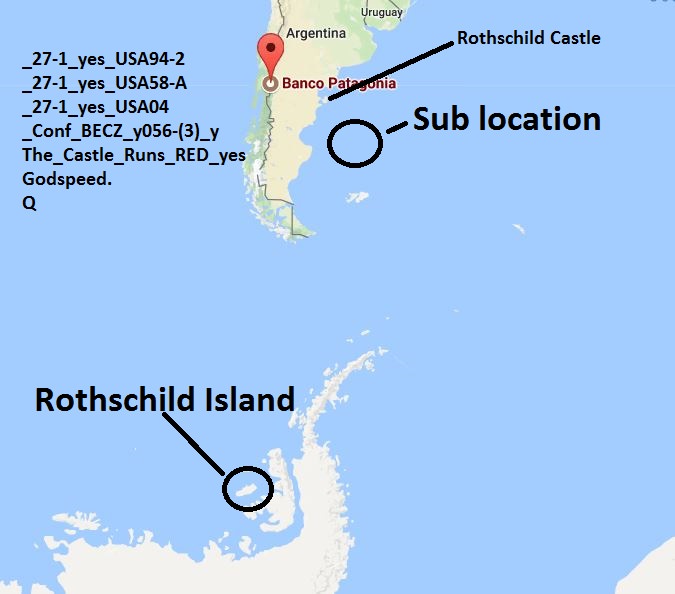 Now I'm just pointing out some weird coincidences.  We have the Saudi Princes getting arrested 11/4/17.  Sub goes missing 11/15/2017.  Helicopter collision on Rothschild estate 11/17/17.  Think maybe the some of the Rats knew what was up when their Saudi billionaire friends got arrested?  Trying to run?
How can you get to Antarctica when your not protected and maybe even being hunted?  Can't fly.  A sub from a corrupt and lifelong cabal supporting Country seems like a good option.  Almost every German war criminal from WW2 that could escape went to Argentina.  Much evidence out there that Hitler himself escaped to Argentina.
Would make sense that your rat lines of escape run through Argentina to this day.
Aquarius
,
Commandante Frio
,
Deplorably Nameless
,
Heir
,
MysticPizza
,
oldcynic
,
Scent of Cedar
,
SlowLoris
,
Stone age man
,
sybdragon
,
The Comedian :D
,
Wingsprint
likes this!