Another Tesla Bursts Into Flames (Posted: 05-15-2018, 06:50 AM)
Another Tesla Bursts Into Flames After Fatal Crash in Switzerland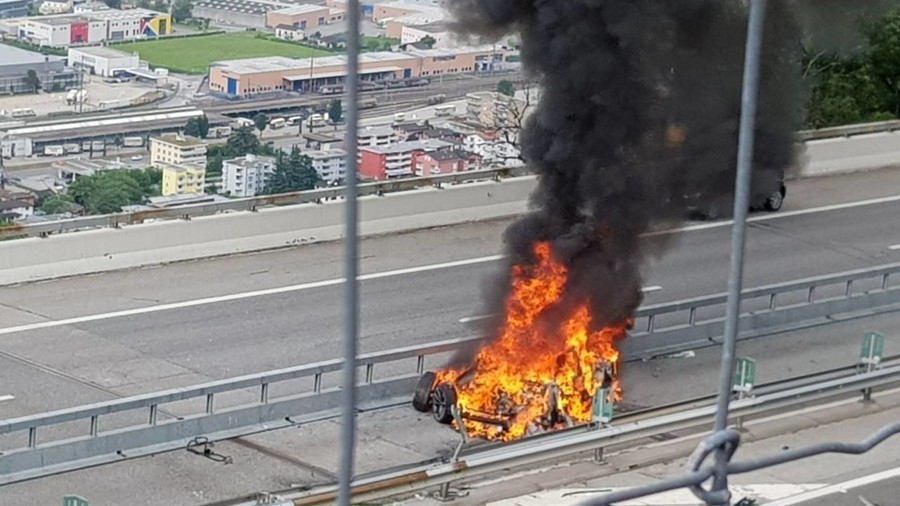 © Bellinzona Firefighters / Facebook
Swiss firefighters have indicated the impact of a fatal crash involving a Tesla car may have triggered a battery fire, causing the vehicle to go up in flames.
A 48-year-German driver died on Thursday when his car hit a barrier on a motorway in the canton of Ticino, southern Switzerland. The car burst into flames and was attended to by Bellinzona firefighters, who say the blaze may have been caused by the Tesla battery.
The violent impact of Lithium-ion batteries could probably have caused a phenomenon called 'thermal runaway,' i.e. a rapid and unstoppable increase in temperature," the fire crew wrote on their Facebook page following the crash.
The firefighters also linked to an article from Fire Fighting Italy outlining the risks of electric vehicles. According to the report, the main problem in terms of fire risk for electric vehicles lies in the so-called "thermal runaway." This can lead to the breakdown of the thermal balance of the system and the complete destruction of the batteries and the car. The study notes, however, that this occurs only in extreme conditions.
The Facebook post was removed on May 15 and replaced with a less detailed statement about the fire. RT.com has reached out to the firefighters for more information.
[
...
]
Continued...
https://www.rt.com/news/426744-tesla-swiss-crash-fire/
Where there is imbalance I am the counterweight. Beware, for if you are a cause of imbalance you may not enjoy my presence.