The fossil fuel industry's business model is to externalize its costs by clawing in obscene subsidies and tax deductions—causing grave environmental costs, including toxic pollution and 

global warming

. Among the other unassessed prices of the world's addiction to oil are social chaos, war, terror, the refugee crisis overseas, and the loss of democracy and civil rights abroad and at home.
As we focus on the rise of ISIS and search for the source of the savagery that took so many innocent lives in Paris and San Bernardino, we might want to look beyond the convenient explanations of religion and ideology and focus on the more complex rationales of history and oil, which mostly point the finger of blame for terrorism back at the champions of militarism, imperialism and petroleum here on our own shores.
America's unsavory record of violent interventions in Syria—obscure to the American people yet well known to Syrians—sowed fertile ground for the violent Islamic Jihadism that now complicates any effective response by our government to address the challenge of ISIS. So long as the American public and policymakers are unaware of this past, further interventions are likely to only compound the crisis. Moreover, our enemies delight in our ignorance.
As the 

New York Times reported

 in a Dec. 8, 2015 front page story, ISIS political leaders and strategic planners are working to provoke an American military intervention which, they know from experience, will flood their ranks with volunteer fighters, drown the voices of moderation and unify the Islamic world against America.
To understand this dynamic, we need to look at history from the Syrians' perspective and particularly the seeds of the current conflict. Long before our 2003 occupation of Iraq triggered the Sunni uprising that has now morphed into the Islamic State, the CIA had nurtured violent Jihadism as a Cold War weapon and freighted U.S./Syrian relationships with toxic baggage.
During the 1950's, President Eisenhower and the Dulles brothers rebuffed Soviet treaty proposals to leave the Middle East a cold war neutral zone and let Arabs rule Arabia. Instead, they mounted a clandestine war against Arab Nationalism—which CIA Director Allan Dulles equated with communism—particularly when Arab self-rule threatened oil concessions. They pumped secret American military aid to tyrants in Saudi Arabia, Jordan, Iraq and Lebanon favoring puppets with conservative Jihadist ideologies which they regarded as a reliable antidote to Soviet Marxism. At a White House meeting between the CIA's Director of Plans, Frank Wisner, and Secretary of State, John Foster Dulles, in September of 1957, Eisenhower advised the agency, "We should do everything possible to stress the 'holy war' aspect."
The CIA began its active meddling in Syria in 1949—barely a year after the agency's creation. Syrian patriots had declared war on the Nazis, expelled their Vichy French colonial rulers and crafted a fragile secularist democracy based on the American model. But in March of 1949, Syria's democratically elected president, Shukri-al-Kuwaiti, hesitated to approve the Trans Arabian Pipeline, an American project intended to connect the oil fields of Saudi Arabia to the ports of Lebanon via Syria. In his book, 

Legacy of Ashes

, CIA historian Tim Weiner recounts that in retaliation, the 

CIA engineered a coup

, replacing al-Kuwaiti 

with the CIA's handpicked dictator

, a convicted swindler named Husni al-Za'im. Al-Za'im barely had time to dissolve parliament and approve the American pipeline before his countrymen deposed him, 14 weeks into his regime.
Following several counter coups in the newly destabilized country, the Syrian people again tried democracy in 1955, re-electing al-Kuwaiti and his Ba'ath Party. Al-Kuwaiti was still a Cold War neutralist but, stung by American involvement in his ouster, he now leaned toward the Soviet camp. That posture caused Dulles to declare that "Syria is ripe for a coup" and send his two coup wizards, Kim Roosevelt and Rocky Stone to Damascus.
Two years earlier, Roosevelt and Stone had orchestrated a coup in Iran against the democratically elected President Mohammed Mosaddegh after Mosaddegh tried to renegotiate the terms of Iran's lopsided contracts with the oil giant, BP. Mosaddegh was the first elected leader in Iran's 4,000 year history, and a popular champion for democracy across the developing world. Mosaddegh expelled all British diplomats after uncovering a coup attempt by UK intelligence officers working in cahoots with BP.
Mosaddegh, however, made the fatal mistake of resisting his advisors' pleas to also expel the CIA, which they correctly suspected, and was complicit in the British plot. Mosaddegh idealized the U.S. as a role model for Iran's new democracy and incapable of such perfidies. Despite Dulles' needling, President Truman had forbidden the CIA from actively joining the British caper to topple Mosaddegh.
When Eisenhower took office in January 1953, he immediately unleashed Dulles. After ousting Mosaddegh in "Operation Ajax," Stone and Roosevelt installed Shah Reza Pahlavi, who favored U.S. oil companies, but whose two decades of CIA sponsored savagery toward his own people from the Peacock throne would finally ignite the 1979 Islamic revolution that has bedeviled our foreign policy for 35 years..
This was written by Robert F. Kennedy Junior and is here in its entirety,  Read more....  http://www.ecowatch.com/syria-another-pi...80532.html
Proposed pipeline routes through the Middle East to gas markets in Europe. The purple line is the Western-supported Qatar-Turkey pipeline. All of the nations it passes through — Saudi Arabia, Jordan, Turkey (all highlighted in red) — have agreed to it … except Syria. The red line is the "Islamic Pipeline" from Iran through Iraq into Syria. See text below for further explanation. (Source: 

MintPress News

; click to enlarge)
Summary first: We have been at war in Syria over pipelines 
since 1949. This is just the next mad phase.
I'm not sure most Americans have figured out what's happening in Syria, because so much of what we hear is confusing to us, and really, we know so little of the context for it. Is it an insurgency against a brutal ruler? Is it a 

group

 of insurgencies struggling for power in a nearly failed state? Is it a proxy war expressing the territorial and ideological interests of the U.S., Russia, Turkey and Iran?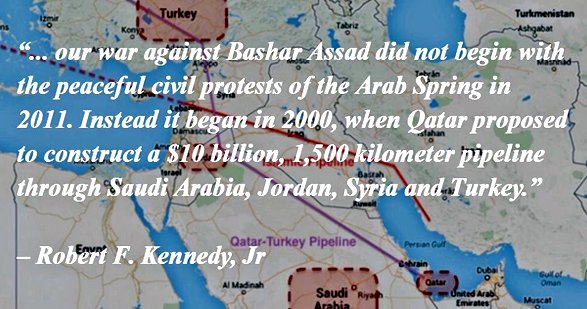 Or something else?
According to Robert F. Kennedy Jr. it is something else — a war between competing national interests to build, or not build, a pipeline to the Mediterranean so natural gas can be exported to Europe. Inconveniently for Syria, that nation lies along an obvious pipeline route.
Which makes it another war between interests for money — something not very hard to understand at all.
http://www.washingtonsblog.com/2016/10/62769.html