https://www.youtube.com/watch?v=qalAciuHCgA
This profoundly offensive catchphrase was coined by the well-known birther and "counter-Jihadist" Pamela Geller back in June, 2010, when Pay Pal temporarily suspended her website Atlas Shrugs' account for violations of Acceptable Use Policy (specifically the "promotion of hate, violence, racial intolerance or the financial exploitation of a crime"). Geller revived it as a rallying cry in the fall of 2011, when a series of hotels abruptly declined to host her anti-Islam conferences; she and a number of her followers bravely Tweeted it in support of Rush Limbaugh after his troubles with Sandra Fluke a few weeks ago. Sometimes, Tourette-like, it appears on Facebook status updates and Twitter feeds for no discernible reason at all. I usually see it when it does, because I have been tracking the phrase "The New Hate"(the title of my new book).
Like the battle against the supposed tyranny of Political Correctness a few years back, the implication is that the kinds of statements that leftists excoriate the loudest–about the intrinsic evil of Islam, the sluttishness of feminists, the intellectual and moral shortcomings of people with darker skins–are in fact courageous acts of truth telling. In a paradoxical twist that might have come out of the pages of Through the Looking Glass, calling a person or a group out for bigotry is decried as an act of hatred in and of itself. From this perspective Media Matters, the ADL, the Southern Poverty Law Center, Right Wing Watch and other media watchdogs are cruel bullies, bilious with resentment and bloated with George Soros-supplied cash, hell bent on besmirching the reputations of innocent Tea Partiers, Know Nothings, white nationalists, anti-Semites, and right wing talk show hosts, whose only crime is that they told "an inconvenient truth."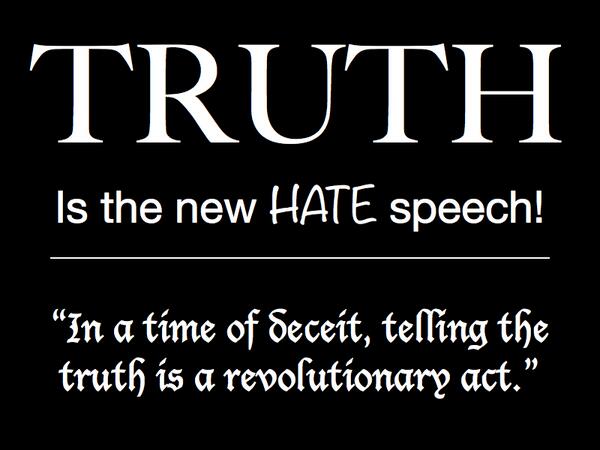 When Max Blumenthal wrote about the filmmaker and provocateur James O'Keefe's past racist associations a few years ago, the late Andrew Breitbart leapt to his protégé's defense. "You have been programmed by some ungodly creature to be this character of hatred," he shouted at him. "Accusing a person of racism is the worst thing that you can do in this country." With video cameras rolling, Breitbart set out to turn the tables not just on Blumenthal but on the entire left, giving the right a "have you no decency at long last" moment of its own. "Your entire job is trying to destroy people with Alinsky tactics," he continued. "Guilt by association…..You're trying to destroy people's lives through innuendo!"
Never mind that Breitbart himself was the impresario of the infamous video in which, thanks to deceptive editing, Shirley Sherrod appeared to be declaiming her hatred of white people to an enthusiastic NAACP audience–in fact she'd told them an inspirational story about how she'd overcome the temptation to hate. Though Breitbart couldn't bring himself to apologize to Sherrod when she was vindicated, he was quick to seize the moral high ground of victimhood for himself. "All I'm seeing is people right now seeing blood in the water and coming after me," he complained to Politico, "and the amount of half-truths and falsehoods that are out there in the pursuit of taking me down because they perceive that I'm a threat, it's astounding." I have quoted Thomas Frank's maxim a thousand times, but I might as well quote it again: "Indignation is the great aesthetic principle of backlash culture; voicing the fury of the imposed upon is to the backlash what the guitar solo is to heavy metal."
https://www.dailykos.com/story/2012/3/25...ate-Speech
From what I gather, the Washington Post started the ball rolling by complaining about "fake news". This is the misinformation and politically incorrect attitudes projected daily by the New Deplorables of the alternative media. It is the news scrupulously avoided by such trusted organs of mass propaganda as the New York Times, the Washington Post, the Wall Street Journal, Fox News, CNN, the BBC, and the Guardian newspaper.
These aforementioned media outlets, we are given to understand, are bastions of intellectual and moral integrity. They never lie. George W Bush and Tony Blair, who invaded Iraq to punish Saddam Hussein for his non-existent weapons of mass destruction, will be delighted to learn that they were allowed to kill a million innocent people in Iraq and maim millions more, with the full support and complicity of this mainstream media. In the words of John Pilger: "The million dead in Iraq and the flight of 12 million refugees from at least four countries are the consequence" of trusting the New York Times, the BBC, and the other mainstream media mentioned above.
The 200 Forbidden Websites listed below are not only accused of being purveyors of lies and black propaganda, they are also accused of being "Russian agents." They are in the pay of Vladimir Putin. Not necessarily all of them but quite a few. The rest, like the humble Darkmoon site, which wouldn't know a Russian agent if it saw one, are described as "Useful Idiots."
We Useful Idiots decided to plug the Russian party line because we were too stupid to see through the wiles of the diabolical Vladimir Putin. And what was Putin supposed  have done in this particular case that was so abominable? Ah yes, he had helped to fix the American election! With the help of his evil Western agents, all listed below, Putin had succeeded in getting Donald Trump elected as President. With his subtle black propaganda, Putin had destroyed the reputation of one of the finest women in American history—namely, Hillary Clinton. And the 200 websites listed below had been instrumental in bringing these new horrors into the world.
A sad day indeed for democracy.
https://www.darkmoon.me/2016/truth-is-th...the-truth/