(09-15-2018, 01:14 PM)

Hickory Wrote: [ -> ]

(09-15-2018, 01:03 PM)

Deplorably Nameless Wrote: [ -> ]

(09-14-2018, 08:36 PM)

Karu Wrote: [ -> ]snip:

Jessica Ashooh is believed by some to be responsible for the account "arabscarab," which has been leading the charge to shut down the Q Anon movement on the Reddit platform. The Great Awakening, the second-largest pro-Trump subreddit, was banned Tuesday night in a move that has rocked the online community.

More than 30 covert left-wing actors have been identified in the censorship Plot, which includes posing as Trump supporters to post intentionally offensive content and flagging it. Some of these activists are linked to Media Matters and the ACLU. An employee of CBS has been identified as a member of the plot but denies involvement.

Ashooh, overseeing policy at Reddit,

is a veteran of George Soros' Atlantic Council

, where she served as deputy director of the Middle East Strategy Task Force as recently as the spring of 2017, when she moved to Reddit.

The January 2017 David Brock meeting in Florida, where he laid out a social media censorship plan, kicked off a period of Silicon Valley aggression against the American people at just the time Ashooh was transferring from the Atlantic Council to Reddit. The Atlantic Council now works with Facebook to police independent news content on Mark Zuckerberg's social media platform."

https://bigleaguepolitics.com/soros-empl...upporters/



alternatives:

https://voat.co/v/GreatAwakening

https://voat.co/v/theawakening/2715538


Is it just me or does Jessica Ashooh look like she may be related to marina abramovic...keep in mind abramovic is in her 70s.




I have been struck several times lately about how several women in the news could have been her daughters (clones?)! The facial structures were remarkably similar. Was it inherited or simply a coincidental choice of hair styles and makeup on women with similar facial shapes? If I was aware of the similarity, I would change my 'style' immediately, LOL. I wish I had keep notes, but I just blew it off as coincidence. But you give me confirmation! Thanks!
And your use of the word "clones" just synchronized with a search I literally just did on a q post for another thread concerning 'their symbolism will be their downfall'.
One of the images that came up for me was this one of Chester and podesta...my first thought: if that's not his son, it's a clone. My second thought: could these bastards be cloning themselves?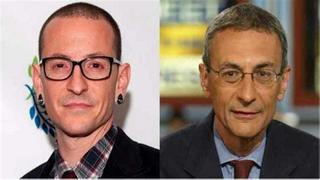 We are synchronizing...I don't believe in coincidences.